Meet Dr. Ted Damas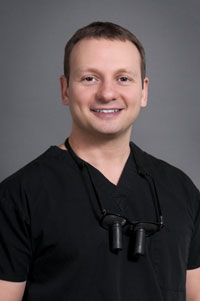 "I entered this profession because I find it fun and challenging. I enjoy the attention to detail required to obtain positive clinical results. I am also a good listener and I believe this is important to developing trust and rapport with my patients. My mission is to exceed every patient's expectations and provide the most comfortable experience possible with exceptional clinical results. I want all of my patients to feel at ease."
Dr. Ted Damas received his dental degree from the University of Western Ontario in 2003. While attending, he received the Laura Stakiu Memorial Award and was named on the Dean's list. Following graduation, Dr. Damas completed a 1-year residency program at the University of Maryland in 2004.
After practicing as a general dentist in Milton, the following year he returned to graduate school at the University of Illinois at Chicago where he completed his specialty certificate in endodontics in 2007. In addition to his clinical training as a resident, he was involved in teaching, conducting research, and giving presentations locally and internationally.
In his spare time, Dr. Damas enjoys spending time with his family and friends, travelling, skiing, golfing and playing ice hockey. Ted is a firm believer in giving back to the community. He is a supporter of the Oakville Hospital Foundation, United Way, and Sick Kids Foundation. Call (905) 844-5748 to make an appointment.