Diagnosis −
Oakville ON
If necessary, treatment can be started on the same day as your initial consultation and diagnosis.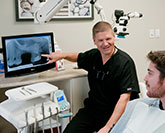 We have special training and expertise in diagnosing oral conditions. Your diagnosis will be thoroughly explained to you, as will all of your treatment options.
Please call our practice to schedule your consultation: (905) 844-5748 or email us at info@hepworthdamas.com.